Thoughtful Ideas for this Valentine's Day
Author: Stan Peter Date Posted: 6 February 2019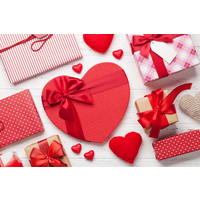 Valentine's Day is about making your significant other feel special and cherished. To do that you must give some serious thought to the gifts you're about to give.
The tradition of gift giving stems from a personal place of love and appreciation. Valentine's Day is all about love. Tying these two concepts together, everyone from retail shops to card manufacturers have gone above and beyond to provide the masses with an endless array of gifting options! That being said, the element of thoughtfulness seems to slowly take leave from exchanging gifts.
Change it up this year. Give the one you love most something thoughtful, quirky, useful and one that symbolises your feelings too!
Perfume
Yes, another mainstream Valentine's Day gift - we get it! But here's the catch! Create a scent just for your significant other!
The lack of a personal touch is what makes most scoff at gifts such as perfumes. However, you can blend together your favourite fragrances to create an extremely personalised gift. Using distinct aromas that are close to your heart and your partner's, you can gift your loved one with something sweet and meaningful! Go a step further by creating a bottle with engraved names or pressed flowers!
Massagers
What says that you love someone better than treating them to a time of relaxation? While this is not the most conventional Valentine's Day gift, this could be one of the most thoughtful and durable gifts to give.
There are many types of massagers to choose from! Ranging from handheld neck massagers to electric foot vibrators, again you'd find the options to be endless! However, since it is Valentine's Day and you've got to spoil the ones you love, here's a massage chair to be the most ideal of it all!
From your hands to your arms and all the way down to your back, this will surely keep the ones you love relaxed and happy whenever and wherever! After a busy day of work, your significant other can now unwind in this massage chair. This isn't just a perfect Valentine's Day gift, but a gift to keep all year round!
Quirky novelty gifts
There's no limit to what you can do when it comes to novelty gifts! This is when you get to be hands-on with what you have in mind and give your loved one a combination of your liking and theirs! Presents that make your Valentine laugh are absolutely precious! Quirky, playful gifts will surely make an impression as much as the expensive ones would. Like a ring for sex bell to keep you in that valentines mood for a good while!
Gift basket
A gift basket is a perfect option for the indecisive partner! If settling down with one gift is a difficult task then this is something to consider. We understand the gruesome anxiety of wondering whether the picked gift is right or wrong. So here's an idea - combine everything you've shortlisted and then compile it into one big gift! Not only is this exciting for the recipient but it also shows how far you've thought. It will surely make your significant other feel loved and cherished! Throw in some scented candles, chocolates, wine and whatever you please!
DIY picture frame
DIY is as personal as it gets. Making a gift from scratch takes time and effort. If you're willing to put in the time and effort required for a Valentine's Day gift then all other boxes will be automatically ticked! DIY items allow you to add a personal touch and craft your gift exactly how you want to - in contrast to store-bought gifts.
Out of many DIY gifts, a picture frame is one of the most meaningful and timeless gifts to give a loved one. Not only do you get to choose the picture for display, but you can choose how best to decorate the frame. Pressed flowers from an old flower bouquet you've given, or seashells picked from a walk on the beach with your significant other are some endearing ideas.
Key takeaways about gift ideas for Valentine's Day
Valentine's Day is about making your significant other feel special and cherished. To do that you must give some serious thought to the gifts you're about to give. The above ideas are just a few out of many options. Not every gift needs to be exorbitantly priced! Purchase your gifts with us and be able to make payments later with Afterpay, zipPay, and zipMoney!
---
Leave a comment